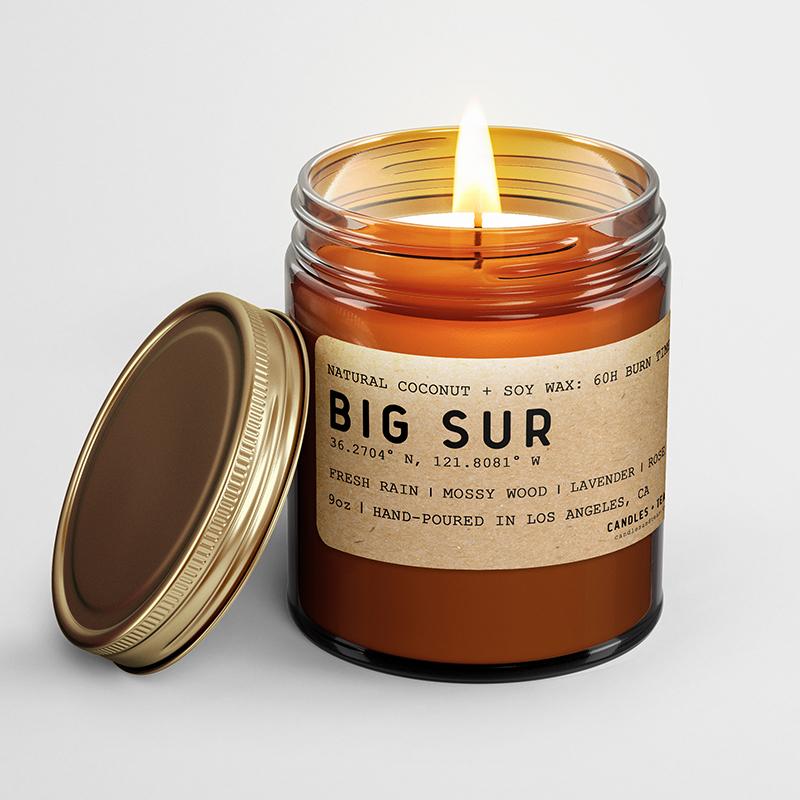 Big Sur: California Scented Candle (Rain, Mossy Wood, Lavender, Rose)
Big Sur is known for its misty coastline and dramatic scenery, where seaside cliffs rise abruptly from the Pacific Ocean.
Big Sur Candles pair the scent of the Ocean mist with aromas of fresh clean rain. Undertones of mossy wood and sweet middle notes of lavender and rose round out this refreshing candle.
Made in Los Angeles, each candle is hand-poured into apothecary inspired amber jars with a golden brass lid. Burn-time is approximately 60 hours.
Wax, Scent & Wicks
Candle Ingredients
Expect the best. We hand-pour every candle in our California studio and strictly use the finest quality ingredients. The result is a Premium Scented Candle that burns cleaner, longer and stronger, for truly room filling aromas.
Maximum Scent Load. Our hot throw, meaning the release of fragrance while the candle is burning, is what sets us apart. We achieve an unparalleled scent throw intensity by using a premium coconut-apricot wax blend, our candles include 50% more scent than even the best soy candles in the market.
Ingredients. We are using the finest natural ingredients in the market to provide a candle that meets the highest quality standards while producing an unparalleled fragrance experience. Our scents are always free of phthalates as well as materials with similar health concerns, including carcinogens, mutagens, reproductive toxins, organ toxins and acute toxins.