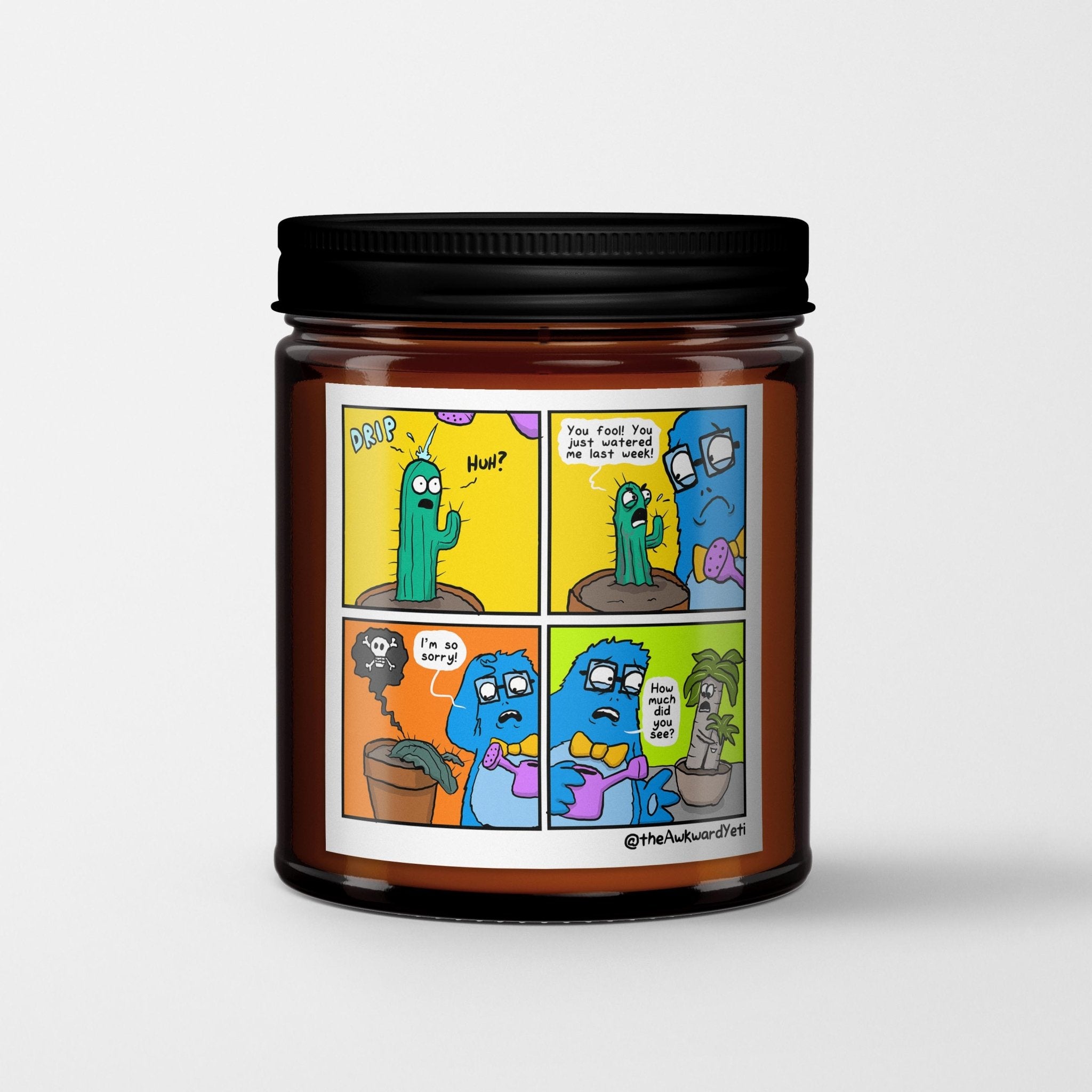 The Awkward Yeti Scented Candle in Amber Glass Jar: Overwatered
Pick Your Scent:
Black Forest
Original artwork by The Awkward Yeti: Overwatered

The Artist: The Awkward Yeti and all of its work are authored and illustrated by cartoonist Nick Seluk. His New York Times Bestselling series Heart and Brain has brought popularity to the Awkward Yeti on social media, and he now copes with the pressure of trying to entertain millions of fans online.
The Candle: Like no other, this candle is carefully hand-poured in a tasteful amber glass jar with 8 ounces of natural coconut wax. Enclosed by a black lid, this candle aroma keeps consistently fresh while bringing a stylish visual component to your space. The burn time is approximately 60 hours for the 8oz option and 100H for the 16oz option.
Every candle is made with 100% non-toxic coconut wax and a flat braided cotton wick. The scents are infused with essential oils and always free of phthalates.
The Scents: Explore our array of ultra premium scents:
Black Forest: Add a new layer of sophistication to R&R or meditation at home with this luxury evergreen fragrance. Traditional forest scents are paired with vivid notes of eucalyptus, cypress and tonka bean, creating a unique aromatic crispness.
Tahitian Vanilla: Delicious in any room at any time of year, this buttercream, vanilla bean, and cake scent with base notes of sugar and bourbon create a luxurious aroma that conjures fresh baked delicacies that present both comfort and delight.

Tobacco + Rum: Transport yourself to a night in Havana with notes of tropical Caribbean teakwood enhanced with hints of ginger and peppercorn and a woody base of sandalwood, amber, and musk. Rich, rugged, and grounding.
Lavender + Honey: A delightful lavender treat with fresh violet, chilled blackberry and sweet raspberry, finished with delectable creamy vanilla and warm honey top notes.
Wax, Scent & Wicks
Candle Ingredients
Expect the best. We hand-pour every candle in our California studio and strictly use the finest quality ingredients. The result is a Premium Scented Candle that burns cleaner, longer and stronger, for truly room filling aromas.
Maximum Scent Load. Our hot throw, meaning the release of fragrance while the candle is burning, is what sets us apart. We achieve an unparalleled scent throw intensity by using a premium coconut-apricot wax blend, our candles include 50% more scent than even the best soy candles in the market.
Ingredients. We are using the finest natural ingredients in the market to provide a candle that meets the highest quality standards while producing an unparalleled fragrance experience. Our scents are always free of phthalates as well as materials with similar health concerns, including carcinogens, mutagens, reproductive toxins, organ toxins and acute toxins.